Galashiels plumbing firm taps into lottery jackpot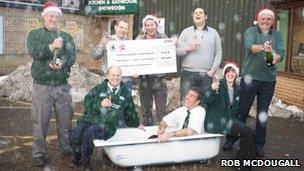 A syndicate at a plumbing firm in the Scottish Borders is celebrating a National Lottery win of nearly £1m.
Eight members of the group at the Graham site on Island Street in Galashiels will share their prize.
The workers are awaiting a Camelot representative to visit to verify the authenticity of their ticket.
Branch manager Mike Ormiston said they had never won any big sums of money before and the news of their payout had "not really sunk in".
Their winning numbers - 11, 15, 24, 33, 43 and 49 - came up on Saturday night's draw.
Their syndicate was one of five tickets which matched the winning numbers and will share the overall prize of £4,637,145.
They will receive a total of £927,429 - giving each syndicate member £115,928.
Mr Ormiston said three members had left the firm but decided to remain in the syndicate. Only one worker is not part of the syndicate.
He added they were trying not to get too excited until they get a visit from Camelot on Tuesday to verify their winning ticket.
He said: "On Friday we shared out the money we had won over the year as a wee Christmas bonus - about £35 each.
"We've been paying into a syndicate for years but we've never won any large amounts before.
"It's not really sunk in yet."
Related Internet Links
The BBC is not responsible for the content of external sites.