Hawick teenager helps challenge sight loss 'ignorance'
By Giancarlo Rinaldi
South Scotland reporter, BBC Scotland news website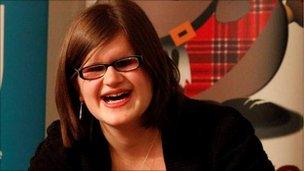 When Hawick teenager Katrina Thomson got tired of "shrugging off" the insults linked to her visual problems she decided to take action.
She tackled the issue head-on by asking to address her school about the issues surrounding visual impairment.
From that day on, she says, the bullying stopped.
It was the culmination of a story which started when she was diagnosed with cancer of the eyes at six months old.
Radiotherapy treatment caused cataracts on the lenses of her eyes which, when removed, left her with difficulty in focusing on objects.
It meant her childhood was different from most others.
"Being visually impaired, I have always stood out from the crowd because my glasses are thicker than the average person's and I don't fit the typical stereotype," she explained.
"Verbal bullying has always been a problem for me and I have had to put up with it for as long as I can remember.
"I had always been told to shrug it off and not pay attention to the comments people made - which was all fair and well until I was able to understand the meaning of the insults."
The 18-year-old said she was accepted by her peers at primary school as young children are "more receptive to difference".
However, that changed when she went to secondary school.
"People started to make horrible comments towards me, simply because I was visually impaired," she said.
"I just did as I was told, shrugged off the insults, until a girl made a comment towards me which was very hurtful.
"That's when I did something about it."
She went to her headmaster and asked if she could address Hawick High School about visual impairment.
"I realised that the only reason people were bullying me was due to them being ignorant, and that wasn't necessarily their fault," she said.
"There is not enough education about the topic of disability.
"After addressing the school there was no more bullying."
That is why she was happy to join a national campaign being launched at Edinburgh's Festival Theatre to raise awareness of what being young and living with sight loss is like.
Called "Stop and Stare" it aims to help combat the isolation, exclusion and bullying that some young people have experienced in school and on the street.
To kick it off, the Haggeye forum - set up by RNIB Scotland three years ago to represent the 12 to 25 age group - will unveil a new digital resource-kit for schools.
It includes a USB stick with audio testimonials from young people explaining their sight loss condition and how it impacts on their lives.
It also contains a short audio-described video outlining how to guide someone who is blind or partially sighted, as well as general information about eye health.
"Other Haggeye members had also come across how this lack of awareness affected people with sight loss, especially young people," explained Katrina.
"After feeding back the positive experience from my school, Haggeye decided to make this the basis for our new campaign.
"We named it 'Stop and Stare' as we felt that when people passed us by all they did was stop and stare."
Their message will now be promoted throughout 2011 to try to help others facing the problems Katrina encountered.
It could help people without the determination shown by the Borders teenager.
Related Internet Links
The BBC is not responsible for the content of external sites.