Scottish Borders double decker bus skids off road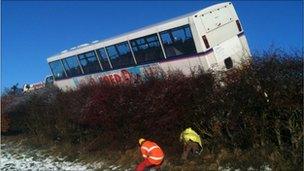 A double decker bus has skidded off the road in the Scottish Borders due to icy conditions.
It was heading for Peebles when the vehicle left the A72 just outside Innerleithen, went down an embankment and came to rest in a ditch.
The bus ended up leaning against trees at a 45 degree angle.
The passengers on board the bus were said to be shocked but unhurt and the road was closed so the vehicle could be recovered.
Conditions in the area have been treacherous for much of the morning with drivers being warned to take extra care.
Severe weather warnings have been issued for the region, with ice to become a problem as temperatures plummet in the wake of the snow.
Among the routes affected are the A6112 between Duns and Granthouse and the A6105 between Duns and Chirnside.
Main roads through the area, such as the A7 and A68, are said to be passable with care.
Drivers have been advised to keep their speed down and make sure they are equipped for travelling in the bad weather.
All schools in the region remain open.
Neighbouring Dumfries and Galloway's major emergency scheme members have met to discuss preparations for the potential severe weather forecast for the area.
Council chief executive Gavin Stevenson said everything possible would be done to keep roads and schools open if snowfalls affected the region.
Related Internet Links
The BBC is not responsible for the content of external sites.