Gretna border landmark bidders selected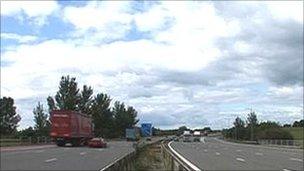 Three international contenders have been selected to design a major landmark to be constructed at the Scotland-England border.
Designer Cecil Balmond, American artist Ned Kahn and Wilkinson Eyre Architects are in the running for the project.
All three candidates will be invited to spend time in Gretna, where the scheme will be sited, early next year.
The winner of the project - entitled The Great Unknown - will be announced in the summer of 2011.
Sri Lanka-born Mr Balmond's works include the Arcelor Mittal Orbit tower, the UK's largest public art sculpture, designed in collaboration with Anish Kapoor for London 2012.
Environmental artist Mr Kahn has collaborated with architects and designers on a number of art projects all over the world.
London-based Wilkinson Eyre Architects enjoyed back-to-back success in the RIBA Stirling Prize for Architecture for the Magna Project in 2001 and the Gateshead Millennium Bridge in 2002.
Chief executive of Creative Scotland, Andrew Dixon, said: "The applicants selected will really bring an international dimension to this commission.
"I believe Gretna landmark will be important to tourism, to the economy, and that there'll be great local pride in the work and its importance to Scotland.
"The site really is the 'welcome point' for Scotland.
"The landmark could create the first contemporary icon for the nation."
Dumfries and Galloway Council convener Patsy Gilroy said the landmark was a "fantastic thing for the nation to celebrate".
"I'm proud Dumfries and Galloway can do this for Scotland," she said.
Related Internet Links
The BBC is not responsible for the content of external sites.