Midlothian firm fined after van struck Kelso pensioner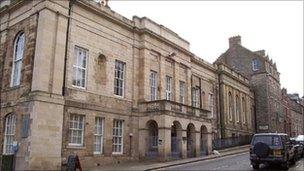 A vehicle salvage firm has been fined £17,000 after a van fell off a trailer and ran over a pensioner's leg.
William Middlemiss, 73, spent eight nights in hospital following the accident in Kelso town centre.
SCB Vehicle Dismounters and Auto Salvage Ltd, of Newbridge, Midlothian, admitted two breaches of safety regulations on 15 June.
Sheriff Kevin Drummond said he was satisfied steps had been taken to help tighten up vehicle recovery procedures.
The firm admitted two charges of breaching safety regulations by having an unsecure load to the danger of injury and exceeding weight regulations.
Jedburgh Sheriff Court was told the firm had picked up a Subaru car and a Ford Transit van at Croall Bryson in Kelso with a recovery truck.
The car was on the back of the trailer and the Ford Transit van was being towed with its rear wheels on the ground.
But as it travelled along a cobbled street a strap holding the van came loose, and the van came off the trailer striking and causing serious injury to Mr Middlemiss.
He suffered two broken fingers, cuts to his head and bruising to his legs after the van hit him on the hip and knocked him to the ground before running over his left leg.
Tessa Bradley, prosecuting, said that following a reconstruction investigation the load on the rear axle was found to be overweight by 1,040kg.
She explained: "When the driver was interviewed by the police he did not know how the strap had come loose.
"He thought that going along the cobbles or hitting a drain cover caused the van to bounce and come loose."
A lawyer for the 40-year-old firm explained the company - which has a turnover of £12m-a -year employing 100 people - transports 25,000 salvage vehicles per annum and had no previous convictions for breaches of safety regulations.
He admitted two errors were made in that two trips should have been made to take the vehicles to Edinburgh separately and that the straps were attached to the wrong part of the recovery truck.
He added that the company regretted the errors and that steps had been taken to ensure it would not happen again.
Sheriff Drummond took into account the firm's previous unblemished record and the action taken to tighten up recovery procedures.
He added: "Nonetheless, the company has pleaded guilty to a charge of causing potential danger to the public."
Sheriff Drummond fined the firm £12,000 for having the unsecured load and another £5,000 for exceeding weight regulations when transporting the two vehicles.
Not guilty pleas to two charges of breaching safety regulations by the driver Samuel Walker, 50, of Parkhead Loan, Edinburgh, were accepted by the Crown.
Related Internet Links
The BBC is not responsible for the content of external sites.