Dumfries Armed Forces man 'humbled' by honour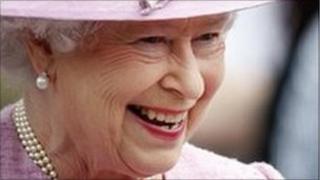 A Dumfries man who has been honoured with an MBE for services to the Armed Forces said he was "humbled" to have received the accolade.
Ken Maclachlan settled near Dumfries after a long career in the merchant navy and P&O Ferries.
For 11 years he was secretary of the Dumfriesshire branch of the SSAFA, dealing directly with ex-servicemen and women in need.
An OBE also goes to Johan Findlay from Lochmaben.
Johan Findlay has been a JP and honorary sheriff for 15 years and on the Parole Board for Scotland for 10 years.
She wrote All Manner of People, the definitive history of the justice of the peace system in Scotland over 400 years.
Ms Findlay was the founding chairman and now secretary of the Scottish Justices Association and gets the OBE for services to the administration of justice.
Alasdair Houston, executive chairman and managing director of Gretna Green Group, is appointed MBE for services to tourism.
The Gretna Green Group runs a range of tourism services and attractions including the Old Blacksmith's shop and is a major local employers.
The Houston family has been in Gretna since 1886. Five years ago, Alasdair was the driving force behind a £5m investment in the new upmarket Smith's Hotel.
'Real heroes'
Mr Maclachlan told BBC Scotland: "People who had health problems, mental health problems, maybe drug problems, alcohol problems weren't able to control a household budget, we helped them to do that.
"I found it very rewarding, each day was a new challenge. I am delighted by this award and very humbled because the real heroes in this are the people that we helped."
Murray Irving, 65, from Drummore, said it is doing the jobs nobody else wants to do that has won him the MBE for services to his community.
Melrose-based James Sugden, the managing director of Johnstons of Elgin, has been awarded the OBE for services to the textiles industry.
Gordon Jackson from Hawick has been awarded an MBE for his services to the Scottish Ambulance Service and also his hometown.
Margaret Simpson, also received an MBE, for services to social enterprise and the community in the Scottish Borders.
Barbara Herdman and Peter Herdman have both been given MBEs for their services to voluntary healthcare in Berwick Upon Tweed.
Berwick's Brenda Hackett, the marketing director of Lindisfarne Ltd, has also been awarded an MBE for services to the drinks industry.