Innerleithen wins broadband installation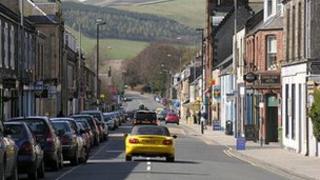 A Borders town has won a competition to have super-fast broadband installed by early 2012.
Innerleithen has been named as one of six areas to win BT's Race to Infinity, which invited communities to vote for fibre-optic broadband.
MP for Tweeddale, David Mundell, praised the "tremendous effort" by everybody in the area to ensure the highest possible number of votes.
More than 71% of the local community voted during the three-month survey.
Mr Mundell said it was great news for Innerleithen, Cardrona, Traquair and Glen.
"It was a fantastic achievement and is a real example of community spirit in action by all those who worked so hard to make sure Innerleithen topped the poll," he said.
"This will mean better internet services for local businesses, youngsters in education and anybody using the web for shopping, social and domestic purposes.
"It creates a myriad of possibilities and I hope it will become a flagship for other communities in the south of Scotland as we strive to bring the same level of broadband service to every community in Scotland.
BT said the competition had proved so popular that it increased the number of winners from five to six.
The aim behind Race to Infinity was to find communities where demand for super-fast broadband was highest.
Gavin Patterson, chief executive of BT Retail, said: "We've been so impressed by the passion and commitment of the people who signed up to campaign for their areas up and down the country."
The fibre-optic broadband is capable of offering download speeds of up to 40Mb and upload speeds of up to 10Mb.