Rescued otter cub makes progress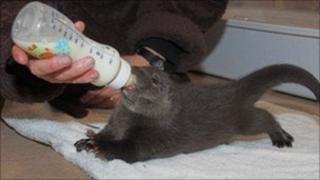 A two-month-old otter rescued by dog walkers in the south of Scotland is said to be recovering well.
The cub, nicknamed Luce after the river in Dumfries and Galloway, was found near the village of Rigg near Gretna shortly before Christmas.
A family heard her cries and called the Scottish SPCA's animal helpline.
The cub is now being cared for at the charity's Wildlife Rescue Centre in Fife and should be transferred to Skye once she is fully weaned.
Scottish SPCA inspector Janet Proudlock said: "A family had been walking their dogs and heard Luce crying in distress.
"Sensibly, they walked away without disturbing her and left her alone for around an hour.
"When they returned she was still crying so they called our animal helpline."
'Totally dependent'
Officers came and picked the cub up and transferred her to the centre in Fife.
"We're pleased with Luce's progress," Insp Proudlock said.
"She wouldn't have survived for long in the wild as she was totally dependent on her mother.
"While she isn't yet fully weaned she is starting to eat trout enthusiastically."
It is hoped Luce will ultimately be taken to the International Otter Survival Fund on Skye to grow up with other otter cubs before being released after about a year.