Borders horse rider dies following hunt fall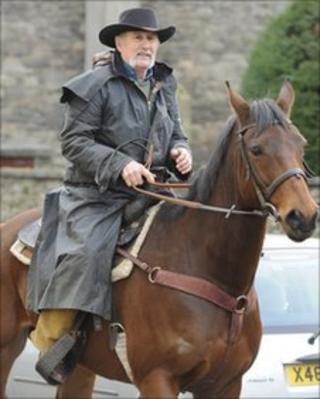 A rider has died after being thrown from his horse during a New Year's Day hunt in the Scottish Borders.
It is understood Paul Watson, 61, was not wearing a hard hat when the incident occurred.
The retired businessman, from near Earlston, was at the Lauderdale Hunt as a spectator when he was thrown off his mount and hit his head on the road.
A statement from the event organisers said they were "deeply shocked" to lose a "keen supporter" of the hunt.
Mr Watson had turned up to watch the 1 January event but as about a dozen riders and hounds left Lauder his horse tried to follow them.
He was unseated as his mount set off down the main A68 road and, as he had not intended to follow the hunt, he was not wearing a hard hat.
He was treated at the scene by a nurse who was part of the hunt and taken by ambulance to Borders General Hospital near Melrose, where he later died.
Mr Watson was a well-known member of the farming community in the Borders and until recently ran the Border Land Rovers business.
He is survived by his wife and two children.
'Sincere condolences'
A statement issued by the Lauderdale Hunt said: "We have learned with sorrow of the death of Mr Paul Watson following a tragic accident which occurred at the New Year's Day meet at Lauder on Saturday.
"We understand that Mr Watson had come to the meet on his horse purely as a spectator, intending to return home immediately afterwards.
"Unfortunately, it appears that as the hunt moved off from Lauder Square, Mr Watson's horse became agitated, got out of his control and galloped after the main body of riders along the A68, resulting in his becoming unseated, being thrown from the saddle, and striking his head on the roadway."
Hunt Master Tim Coulson and other hunt members went to his aid and summoned medical assistance before he was taken to the BGH for treatment.
The organisation expressed its "sincere condolences" to Mr Watson's family for their "sudden and tragic bereavement".
Hunt secretary Ian Scott-Aiton added that Mr Watson had never been out with them before but he was well known to everyone, stating it was a "terrible tragedy".
A spokesman for the British Horse Society said that wearing a hard hat was not compulsory but it always recommended people had protective headgear while riding a horse.