NHS Dumfries and Galloway car lease spending criticised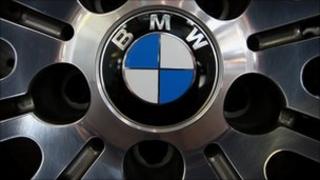 NHS Dumfries and Galloway has been criticised by Labour politicians for spending nearly £800,000 leasing cars.
MSP Elaine Murray and MP Russell Brown said it was "outrageous" and "unacceptable" at a time of cuts in health services.
They described some of the 321 cars as "top of the range" sports vehicles.
NHS chief executive John Burns said the scheme actually saved money and allowed frontline staff to carry out their duties across a large, rural region.
The figures, revealed in a Freedom of Information request from Labour, show the NHS authority is spending £784,124 on lease cars.
They include vehicles such as the Mercedes CLC 200 Coupe Sport, BMW 1 Series CPE Sport and Audi A3 Sportback TDI SE.
Dumfries MSP Dr Murray said: "This is absolutely astonishing and fancy cars like these would be at the top of my list of things to cut.
"It is outrageous that the NHS is cutting nurses and midwives while giving senior managers Mercedes and BMWs."
Dumfries and Galloway MP Russell Brown said local people would look "in disbelief" at the figures.
"How on earth can we be told that frontline staff need to go but the luxury cars remain?" he asked.
"It is unacceptable and shows the Scottish government is out of touch with the priorities of ordinary people.
"If the choice is between a sports car for a manager or a nurse on the ward then there is no doubt in my mind which I'd prefer."
'Cheaper option'
However, NHS Dumfries and Galloway refuted any suggestion that it was operating a "fleet of luxury vehicles for executives and senior managers".
Mr Burns said the vast majority of the cars were being run by frontline staff.
"The scheme was designed to give frontline staff in a predominantly rural area such as ours, access to safe, well maintained, and efficient vehicles to carry out their NHS duties across the region," he said.
"No board director has a leased vehicle.
"Staff who are eligible for the lease scheme can opt for a higher specification vehicle than the baseline scheme and are required to make the appropriate payments proportionate to the size, make and model of the vehicle they lease."
He said any suggestion that the scheme was a "perk for executives" was untrue.
"If the NHS Board were to reimburse the appropriate mileage costs for all those staff on lease arrangements should they use their own vehicles, it would cost the NHS board £1,042,240 - an additional £258,000 annually," he added.