Castle Douglas jobs lost in food plant closure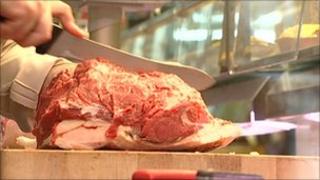 A total of 35 jobs are to be lost in a south west Scotland town with the closure of a meat packing facility.
The Buccleuch Foods operation in Castle Douglas will be relocated to Midlothian following a deal with a rival food company, Campbell Brothers.
The move is designed to allow the merged operation to expand its markets.
South of Scotland MSP Alasdair Morgan said he was "dismayed" at the move which was "effectively transferring jobs to Scotland's central belt".
The work currently carried out in Castle Douglas is transferring to a factory at Bonnyrigg in Midlothian operated by Campbell Brothers - a long established catering supplier specialising in fresh meat and game - which Buccleuch has bought into.
At present, Campbell's sells exclusively to Scotland while Buccleuch sends more than half of its output to England.
Buccleuch Foods' products come from small and family-run producers based around the Buccleuch estates in Dumfries and Galloway and the Borders.
As well as meat, their food range includes pickles, mustards and preserves.
Mr Morgan said the move was bad for Castle Douglas, which describes itself as Scotland's food town.
"I am dismayed at the news of these likely job losses and even more so that it seems that Buccleuch is relocating this work out of the region to Midlothian," he said.
"To my mind this runs contrary to everything that we would want to see happening in the rural economy."
He said one of the main objectives for economic policy in such areas was to gain extra jobs by adding value to products rather than sending that work elsewhere.
"It ill behoves Buccleuch, which bases the reputation of its products on the fact they are sourced from Scotland's countryside to be effectively transferring jobs to Scotland's central belt," he added.
Buccleuch Group chief executive John Glen said it was pleased to have reached the deal with Campbell Brothers.
"This is a very competitive sector and Buccleuch Foods needs to become more competitive in terms of logistics, distribution and economy of scale," he said.
"This merger will enable us to increase our capability in these areas as well as continuing the provision of Buccleuch Foods' products.
"Regrettably, this decision will result in the closure of our plant at Castle Douglas but a number of jobs will be created at Campbell Brothers' premises in Midlothian."
Stuart Robinson, chairman of Campbell Brothers, said the move was "eminently sensible" and would "result in a significant increase in the provision of great Scottish produce".