Action call on Annan chemical firm jobs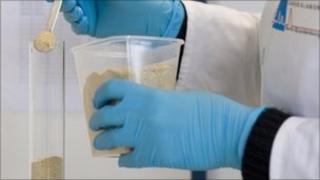 Politicians have called for everything possible to be done to save the jobs of 34 workers at a chemical plant in the south of Scotland.
It follows news that Phoenix Chemicals is going into administration putting posts at risk at Newbie near Annan.
The Merseyside-based firm opened the facility last year with the help of a £400,000 Scottish government grant.
Dumfries Labour MSP Elaine Murray and Dumfriesshire Tory MP David Mundell have both called for urgent action.
Ms Murray described it as "very sad news" for the area.
She said: "Eighty jobs were lost when Shasun Pharma pulled out of Annan in 2008, and everyone was delighted that Phoenix Chemicals purchased the site the following year.
"We all hoped it would be a new beginning for the Annan site."
However, she said she understood the company had had "cash problems" with a contract with its main customer in India.
"The best outcome would be to find a buyer for the site, but it must be faced that this not the best of times for companies to raise funds, expand or engage in new ventures," she said.
"Fortunately the company will continue to trade for the immediate future which will provide a bit of leeway."
'Very disappointed'
She called on all relevant agencies to "work together" to try to find new posts for anyone who might need one.
Mr Mundell said he was "very disappointed" with the situation.
"It was such positive news for our area when they took on the Shasun Pharma site following its closure and seemed to offer hope of a remaining presence for the chemical industry at the Newbie site," he said.
"My thoughts are with the 34 staff members and their families at this difficult time and I am calling on Scottish Enterprise, the council and the Scottish government to do all they can to work with the administrators to find potential buyers for the site.
"My hope is that as it was possible to find a buyer before it might be possible again."