Dumfries regeneration goals outlined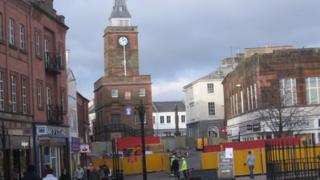 A council officer in charge of helping to regenerate Dumfries town centre has outlined his vision for the town.
Economic development manager Ewan Green has just taken up his post with responsibility for the area.
He said he hoped Dumfries and Galloway Council could "invest positively" to help the town reach "the next level".
Among the potential developments are the construction of a cultural centre, upgrade of the Dock Park and moves to help improve traffic flow.
Works got under way this week to complete renovations around the historic Midsteeple in the heart of the town.
The £400,000 project is part of a scheme started last year in conjunction with the Scottish government.
It will hopefully be followed by a string of other initiatives to improve what Mr Green described as a "really good town" with a "great historic core" around the River Nith.
"Yes, it is not without its problems but towns across Scotland are suffering," he said.
"I think Dumfries is fairly vibrant although I know that people have seen a decline.
"What we want to try and do is arrest that decline and invest positively to get the town up to the next level."
A bid is going forward for Heritage Lottery Funding which would see more than £1m spent on improving the Dock Park.
"What we are trying to do is not just give people who live here and are using the town on a daily basis something," he said.
"If you are a visitor coming to Dumfries we need to give you another reason to come here."
Another piece in that jigsaw could be the creation of a new centre for the arts.
'Consistent theme'
"What we really want to do is investigate the potential for a new cultural centre that might have that transformational change impact on the town," said Mr Green.
He said the feedback from businesses in the town suggested it would be a popular move.
"A consistent theme coming back from them is the need to try to develop the evening economy," he said.
"We know the traders would happily stay open if there was a footfall.
"Given the cultural strength of Dumfries we really think that the potential for a new theatre and cultural centre would have that draw."
However, he said it was "early stages" to decide what would go into the centre and where it might be located.
Another issue to be tackled would be to improve bus stances at places like Great King Street, the Whitesands and around Burns Statue.
"There are some things that we cannot change but what we have to do is look to how we can invest more effectively to make things easier for people to access the town," he said.
Mr Green said some new shops opening in the town showed a trend that could be built on.
"I would say that from discussions we have with inquiries from developers there is a positive image of Dumfries," he said.
More housing in the town centre is also seen as a "vital part" of regeneration plans.
He added that small local traders could have a part to play as well.
"If there are people wishing to start a business in the town centre we are committed to work with them to look at what support we can provide," he said.
All of which might help the town ditch the "ghost town" tag it was landed with last year.