Scottish Borders Council considers 150 job losses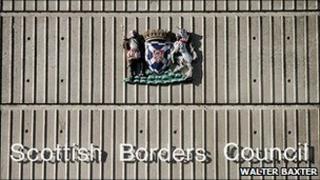 Scottish Borders Council is to consider plans for 150 voluntary redundancies and a pay freeze for some staff.
The authority said the move was due to "significant spending cuts and budget pressures over the coming years".
Depute leader Alec Nicol said the council believed seeking volunteers was "better for overall morale".
The pay freeze proposals would affect all non-teaching staff earning £21,000 or more but come with a "no compulsory redundancies" commitment.
The move to halt employees pay increments will be discussed first - at a meeting on 10 February.
Depute leader Neil Calvert said the measures could save the council more than £4m over the next three years.
"This will make a vital financial contribution to the challenging budgetary position we face," he said.
"It will also mean council staff are making a significant contribution to helping SBC deal with the financial pressures during this period of constrained budgets."
The voluntary severance scheme will be debated a fortnight later.
Mr Nicol said the council believed the move could ensure it continued to "provide a high standard of service and protect jobs".
"The voluntary severance process is flexible and allows us to retain key skills from employees," he said.
"As a process, it is more efficient and can be focussed in particular areas of transformation.
"Posts are not always deleted but the staff turnover allows us to revisit organisational structure and individual roles."