Dumfries seagull egg and nest removal funds sought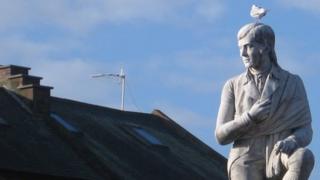 Renewed funding is being sought for a seagull egg and nest removal scheme in southern Scotland.
A total of £40,000 would be set aside by Dumfries and Galloway Council to try to tackle aggressive swooping birds in Dumfries and nearby Heathhall.
It will be the third year the scheme has taken place, with mixed results.
In 2010 it was found that the number of young gulls had reduced but there had been an increase in nesting birds and complaints about the problem.
Urban seagulls attacking the public or stealing food have become an issue of concern across Scotland.
A nationwide summit was held in Dumfries in 2008 to discuss possible solutions.
It resulted in the creation of a task force including the Scottish government, Scottish Natural Heritage, consultants and Dumfries and Galloway Council.
A three-year strategy was then drawn up with the results to be used to help other towns address their problems.
Initial efforts included using a falcon flying over Dumfries in an attempt to disrupt nesting patterns, but this proved ineffective.
However, the council has been advised to continue with its egg and nest removal programme.
It is also being advised to continue with measures which allow them to remove and kill seagull chicks where they are being defended aggressively by adult birds.
Nearly 3,000 eggs and 1,500 nests were removed from properties last year.
Despite this action, breeding pairs in the town rose by 67%.
A report to the council's environment services committee said there was no clear explanation for this increase.
Possible reasons cited include the reduction of a nesting site near Dumfries, a good breeding season four years ago and the disturbance of a colony elsewhere in the UK.
"The removal of nests and eggs over the last two years has been very successful," the report states.
It stressed that it would probably take four to five years for any "appreciable decrease" to be seen in the breeding gull population.
In the meantime, renewed efforts will be made to discourage the public from feeding the birds.
New signs will be put up and environmental enforcement officers will patrol Dumfries town centre during the spring and summer months.