Dumfries seagull egg and nest removal funds agreed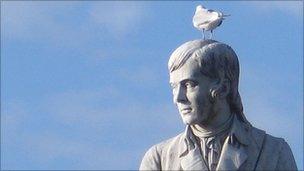 A £40,000 funding package to tackle the number of seagulls in Dumfries has been approved by councillors.
The money will be used to support an egg and nest removal programme, which is now in its third year.
A study has suggested the removal of eggs last year resulted in the reduction of young birds by nearly 90%.
Further efforts to tackle the urban gull problem will include extra signs discouraging members of the public from feeding the birds.
The number of breeding pairs of birds in the town has risen despite the scheme.
However, a council report said it would probably take four to five years for any "appreciable decrease" to be seen in the breeding gull population.
Related Internet Links
The BBC is not responsible for the content of external sites.