Dumfries and Galloway Council rival budget bids tabled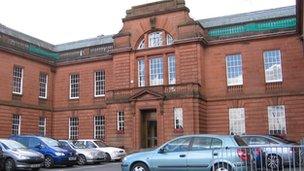 Opposition political groups on Dumfries and Galloway Council are bidding to keep savings below levels proposed by its Tory-Lib Dem administration.
The ruling coalition recently put forward an indicative budget which would cut spending by £17.1m.
However, the Labour group has tabled proposals which limit savings to £14.6m for the south of Scotland authority.
SNP councillors have put forward plans which would require slightly fewer cuts than Labour's financial model.
The authority is due to meet on Thursday to finalise its spending for the financial year ahead.
The administration has drawn up plans to save about £17m - more than £2m above the level strictly needed to balance the council's books.
It claims that course of action allows for greater financial flexibility.
Labour councillors have called the move "vindictive" and have put forward their own plans.
Finance spokesman Colin Smyth said the scale of government cuts meant that frontline services would suffer no matter which financial model was used.
However, he said Labour's blueprint would reduce cuts to education and limit a proposed doubling of care charges, while allowing a £2m fund to be put in place for post-winter road repairs.
They would also scrap controversial fees for blue badge parking permits and introduce a living wage of £7.15 an hour for council workers - a move it is claimed would benefit 1,000 staff.
Meanwhile, the SNP's budget proposal requires slightly less savings than Labour's financial model.
It removes a number of savings tabled by the administration which it claims are unnecessarily damaging to the region.
It would also see charges for blue badge parking permits scrapped.
SNP group leader Rob Davidson said their budget plan was designed to cut as little as possible from frontline services.
The nationalists' spending proposals rule out some of the more controversial savings options already published such as reductions in classroom assistants, library closures, and ending free school meals for primary one pupils.
The SNP group accepts the council will have to set higher fees in some areas, but plans to peg back planned increases in social work charges and burial costs.
Like the other spending plans tabled, the SNP group also sets aside money to tackle road damage caused by the severe winter.
Related Internet Links
The BBC is not responsible for the content of external sites.