Borders Brussels sprout packers land government grant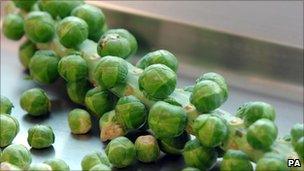 More than 20 food enterprises across Scotland are to share about £3m of funding to help them develop.
It comes in the latest round of Food Processing, Marketing and Co-operation (FPMC) awards from the Scottish government.
The biggest single grant goes to Berwickshire firm R&K Drysdale towards a Brussels sprout processing project.
Companies in Wick, Perth, Ardrossan, Kilsyth, Orkney, Edinburgh and Inverness have also benefited.
The scheme has so far put more than £25m into small and medium enterprises across the country.
A grant of nearly £650,000 goes to Borders vegetable producers R&K Drysdale for a Brussels sprout processing line, storage and packing buildings and refrigeration area.
Managing director Chris Keenan said it would allow the firm to press ahead with a "large scale upgrade and expansion" of its operations.
"The award creates further job opportunities as well as securing the long term future for our existing 140 staff," he said.
"Without Scottish government assistance, these developments could not have progressed.
"We know that our growers will be equally delighted with this vote of confidence in their quality Scottish produce."
Other awards go to Perth-based meat processor Highland Drovers for a vacuum filling and portioning machine.
The University of the Highlands and Islands also receives funding to develop markets for flour in Orkney.
Speaking at a visit to previous FPMC beneficiary, Nairns Oatcakes in Edinburgh, Food Secretary Richard Lochhead said the funds could enhance Scotland's "growing reputation" for quality produce.
However, he warned against complacency.
"Today's investment is just part of the wider support that the Scottish government is giving to our food and drink sector," he said.
"We will continue to take every opportunity to promote Scotland's reputation as a land of food and drink."
Related Internet Links
The BBC is not responsible for the content of external sites.