Castle Douglas swimming pool emergency work costs soar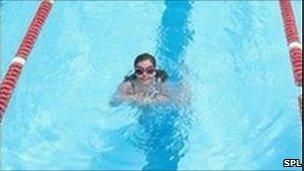 The cost of emergency repairs to a south west Scotland swimming pool has gone 67% over budget following an asbestos scare, it has emerged.
A £60,000 project was planned at the Castle Douglas facility in order to plug leaks in the pool.
However, ceiling tiles made from asbestos fibres were found to be deteriorating during the works.
It has caused a delay in completing the project and also seen the estimated costs rise to about £100,000.
The pool was shut in late September and was due to reopen about three weeks later once works were completed.
Instead, it stayed shut until the end of January.
A council report said re-grouting of the pool proved to be "problematic" with a number of "contractor-based quality issues".
Only at the third attempt was the work deemed to be acceptable, resulting in a major delay.
A decision was also taken to use the opportunity of the pool closure to inspect the condition of an asbestos ceiling.
Tiles were found to be cracked or broken and safety advice was to re-seal them as a "matter of urgency".
Contractors carrying out that work went "against acceptable practice" and rubbed down or scraped the surface of the tiles.
It resulted in concerns that asbestos fibres could have been released into the pool area, which was subsequently confirmed by safety checks.
That caused a further delay to works while clean-up operations were carried out.
A report to councillors said the problems were not something the authority could anticipate or have control over.
However, it praised the swift actions of staff to "contain the situation" and re-open the facility as quickly as safety procedures would allow.
Related Internet Links
The BBC is not responsible for the content of external sites.