'Incompetent' Dumfries primary teacher struck off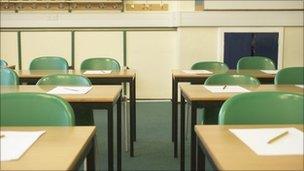 A Dumfries teacher has been struck off by his profession's governing body for "serious incompetence".
A General Teaching Council for Scotland hearing decided to remove William Dryden from its register and prohibit him from reapplying for 12 months.
It found the former Noblehill Primary School teacher did not keep discipline, failed to prepare adequate lesson plans and had not improved despite support.
Mr Dryden has the right to appeal the decision to the Court of Session.
The charges referred to a period between April 2006 and March 2010 when he was employed by Dumfries and Galloway Council.
The hearing found failures in lesson planning, pace of work for pupils, classroom discipline and using assessment to improve his teaching.
Mr Dryden did not appear before the sub-committee but admitted the charges in a written response.
The hearing decided that he had "failed to reach the required standard over a prolonged period of support which was not limited to his time at Noblehill Primary School".
It ruled that removal from the register was "proportionate and necessary" because of the "serious departure" from teaching standards.
A spokeswoman for Dumfries and Galloway Council said it was committed to providing "excellent education services" which needed "the right teachers to be working to the right standards".
"The General Teaching Council for Scotland decided to strike Mr Dryden from the register due to a failure to reach these required standards," she said.
"We will give the maximum available support to help our teachers do their job.
"However, our top priority must always be to deliver high quality education and support for our pupils and we will take all appropriate action in order to achieve this."
Related Internet Links
The BBC is not responsible for the content of external sites.