Dumfries whisky appeal renewed on raid anniversary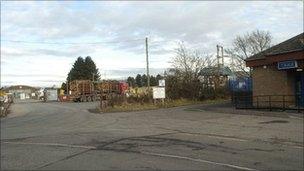 Police have made a renewed appeal for information on the first anniversary of a £250,000 whisky raid near Dumfries.
Thieves made off with two trailers carrying the alcohol from a Currie Group yard at Heathhall at about midnight on 10 February 2010.
Det Insp Stuart Cossar asked anyone who remembered anything from the night in question to contact police.
He said the investigation remained open although the chances of recovering any whisky were likely to be very low.
The overnight raid took place at a yard right next to the local police station.
Two tractor units - one a white Scania and the other a blue Daf - were later seen towing two Currie trailers north on the A701 towards Moffat.
The trailers were later found empty in north west England - one at Widnes and the other at Wigan.
Mr Cossar said any information, however small, might provide them with a vital lead to trace the thieves.
"Despite the fact that it is a year since this theft occurred police are still very keen to try and encourage the public to make contact with us to assist us with the inquiry," he said.
"The fact that this is a commodity that could be very easily sold will make it very difficult for us to try and recover any of the items that were actually stolen.
"That aside, it still allows us to make some very positive inquiries in relation to where it may have gone."
In particular he asked anyone who saw lorries travelling in convoy near the site to contact police.
People who were offered whisky for sale at the time have also been urged to come forward.
Related Internet Links
The BBC is not responsible for the content of external sites.