Turf roof plan hatched for Smailholm Tower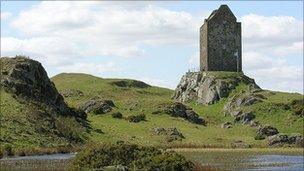 A 15th century landmark in the Borders could be given a roof made from local turf in a bid to keep it watertight.
Smailholm Tower, between St Boswells and Kelso, has suffered damage to its upper floor with rain leaking through its stone flag roof.
However, trials over the past two years with turf and clay soft-capping have helped to address the problem.
Historic Scotland now hopes to make the arrangement permanent and is seeking permission to proceed with the plan.
Smailholm Tower dates back to the 1400s and was built by the Pringle family.
It was crowned a five-star visitor attraction four years ago.
More recently, water damage has caused sandstone erosion and damage to timber flooring in the building.
It is hoped the turf roof proposal could help to halt that problem.
Related Internet Links
The BBC is not responsible for the content of external sites.