Galashiels man who cut ex-partner's car brakes jailed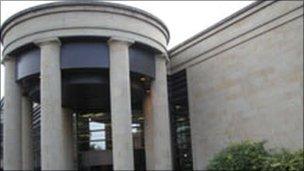 A man who cut the brake cable on his ex-girlfriend's car after they split up has been jailed for nearly four years.
Alan Bell, 26, of Galashiels, had admitted tampering with Susan Hope's Ford Ka in St Boswells in June 2010.
He later vandalised the car again and also started a fire at a friend's home following an argument over money.
At the High Court in Glasgow, Judge Lord Kinclaven said the offences were "dangerous and deliberate" and jailed Bell for three years and 10 months.
He was also banned from approaching or contacting Ms Hope and will be the subject of a supervised release order for 12 months after he is freed from prison.
Bell and Ms Hope had been in a four-year relationship and lived together in Galashiels before separating last February.
She later moved to nearby St Boswells and he followed her to the town.
Police were called on 7 June when Bell was spotted in her garden after sending her a text message demanding to know about her new relationship.
Ms Hope's new boyfriend then moved her car fearing her ex-partner might damage it.
However, when she drove her car the next morning, she became aware of a problem.
She had travelled about 200m (219yds) when she noticed a red light on the dashboard and had to use the handbrake to bring the vehicle to a halt.
Bell was later detained and admitted he had cut the car's brake flexi-hose, showing police the knife he had used.
He claimed he had not wanted to hurt anyone, just damage the vehicle.
Related Internet Links
The BBC is not responsible for the content of external sites.