Greenlaw Town Hall back in business after restoration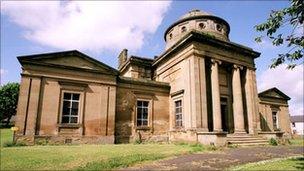 A landmark building has been brought back into use despite losing out in the BBC's Restoration programme.
A renovation project at Greenlaw Town Hall in the Borders failed to secure support during the television series.
However, work has now been carried out by the Scottish Historic Buildings Trust and it is ready for occupation.
Property manager Elizabeth MacKay said it had been completely renovated to include office space which would help to sustain the 182-year-old building.
Greenlaw Town Hall fell into disrepair after an antiques business moved out several years ago.
It was in the running for an upgrade via the Restoration programme but ultimately missed out.
The Greenlaw Town Hall Project Committee took the scheme on board and plans were taken forward to bring the building back into use.
"We are really looking to promote the building to small to medium-sized businesses," said Ms MacKay.
"We have a fantastic hall in Greenlaw which we are hoping the community will come in and manage."
She said that some further fundraising would be required to fit the building out with all the facilities it was hoped to provide.
"The building is looking beautiful, it really makes a huge difference to the village green," she added.
Related Internet Links
The BBC is not responsible for the content of external sites.