Scottish Borders Council in school timetable move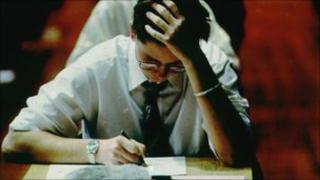 Scottish Borders Council is considering bringing in a 33-period week across all of its secondary schools.
Currently, each school operates its own start times, lunch breaks, end times and length of periods.
The local authority said the move should allow three additional teaching periods in its nine schools.
The council's education department is to introduce a pilot 33-period week at Berwickshire High School in June.
Scottish Borders Council said it believed the move would deliver a range of benefits for pupils, including more subject choice and greater flexibility.
All secondary headteachers have agreed in principle to develop a working group to explore the benefits and efficiencies of implementing the 33-period week.
Changes under consideration include closer alignment of timetables between schools to maximise course choice opportunities for pupils, and working with neighbouring education authorities to extend course choice through virtual/distance learning delivery.
The council's head of schools services (East), Jackie Swanston, said: "It is important for us to look at how we can give schools greater capacity to deliver a Curriculum for Excellence in the most effective way possible as we continue to be financially-challenged into the future."
Councillor George Turnbull, of the Conservatives, added: "This project will enable us to look in more detail at all the areas which will need to be considered if we are to implement the system across all schools.
"We will now move on with the consultation process which will involve seeking input from all stakeholders including teachers, pupils and parents to enable us to develop a business case which is as fully informed as possible."