River Nith hydro power plan considered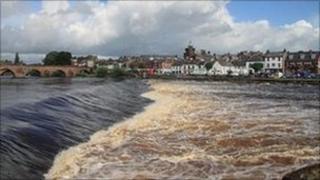 Dumfries and Galloway Council is set to explore proposals for a hydro-electric power plant on the River Nith.
The local authority has been approached by an unnamed energy firm about harnessing water flow over a weir known locally as the "Caul".
The proposals involve a small-scale 100kw scheme opposite the Whitesands in Dumfries.
Councillors will discuss on Wednesday whether to give the green light to an in-depth study.
Any profits or income from the project, if it goes ahead, would be shared between the council, key stakeholders and the energy company.
Council officials said consultation would be required with ecological and other groups associated with the river, once a clear idea of the potential size, scale and physical appearance of the project become available.
They would include the Nith District Salmon Fishery Board, the Scottish Environment Protection Agency and Scottish Natural Heritage.
The Nith District Salmon Fishery Board gave a cautious response to the plans.
Board director Jim Henderson said he remained open-minded about them.