Lodge tables plans for three Orange walks in Dumfries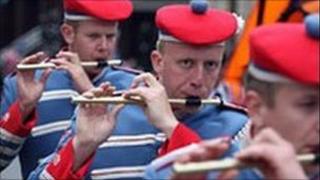 Plans have been tabled for three Orange parades in Dumfries this year.
Locharbriggs Orange Lodge has applied to Dumfries and Galloway Council for permission to hold the marches in July and October.
The first on 2 July would involve about 40 people walking through Locharbriggs accompanied by a flute band.
The lodge also wants to hold two marches on 1 October to mark its 20th anniversary - one through Dumfries town centre and the other in Locharbriggs.
The council, as licensing authority, is now consulting on the proposals.
The responses will be passed on to the police, fire and rescue committee, which will meet next month to determine the applications.
Members of the committee will take into account issues of public order and safety as well as the past history of events organised by the lodge.