Van man caught using laptop while driving in Dumfries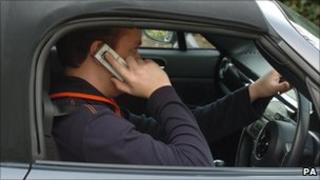 A man has been caught using a laptop while driving a van in Dumfries, police have said.
The local man was reported for not being in proper control of his vehicle after being seen by officers with the laptop on his knees.
The incident came to light during a Scotland-wide crackdown by police on drivers using hand held devices.
In Dumfries and Galloway alone, 20 people were caught driving while using a mobile phone.
They included a 62-year-old man who was reported for using his mobile phone while driving a goods vehicle in Dumfries.
A further 67 people were caught not wearing a seatbelt - including 60 drivers, six front seat passengers and one rear seat passenger.
Day of action
The day of action, which was co-ordinated by the Association of Chief Police Officers in Scotland (Acpos), was held to coincide with the fifth anniversary of legislation making the use of any hand held device when driving an endorsable offence.
If caught, motorists face a £60 fine and three points on their licence.
In Scotland as a whole, 261 drivers were detected driving their vehicle while using their mobile phone, including 195 car drivers, 56 van drivers and 10 drivers of large goods vehicles.
A further 319 people were reported for seatbelt offences.
Supt Alan Duncan, of Acpos, said: "All forces are committed to reducing the number of persons killed or injured on the road network and we will continue on a daily basis to target these offences, as this type of action can have devastating consequences.
"I believe that through educating drivers to the dangers and encouraging them to make a few simple changes, we will see further reductions on those injured or killed on our roads."