Pilot Borders commission to help tackle bullying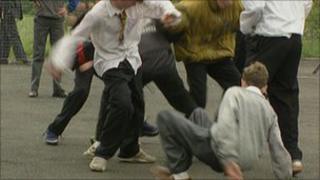 Young people across the Borders are to take part in a pilot project designed to help tackle school bullying.
Scottish Borders Council is to set up a Young People's Commission, which will help shape its policy on bullying.
Up to a dozen young people between the ages of 15 and 25 will be recruited to the commission.
The move follows a local survey which showed almost 40% of school pupils identified bullying as an issue while 32% were worried about cyber-bullying.
The commission, which will include school pupils and young people from youth projects and colleges, will research the topic and make recommendations to a council advisory board.
The council, which is reviewing and revising its anti-bullying framework, said the approach would help create an "innovative solution for a new council policy".
Bullying issues
The 2010 Scottish Borders Young People's Survey, which was commissioned by the Children and Young People's Planning Partnership, asked for the views of more than 2,000 pupils in S1 and S3 on bullying issues.
Almost a quarter of those who responded felt they could learn more about bullying through school, while almost a fifth felt there was no adult in school from whom they could get help in any situation, including bullying.
Council education member George Turnbull said: "The issues of 'relationships' and 'respect' impact on all young people and results from the recent Scottish Borders Young People's Survey show that there are still many issues concerning young people in the area of bullying.
"As we look at reviewing our current framework on bullying, we thought this presented the ideal opportunity to pilot a Young People's Commission to carry out this work."
The commissioners are expected to report back to the advisory board before the end of this year.