Galashiels school dinner lady hurt as ceiling falls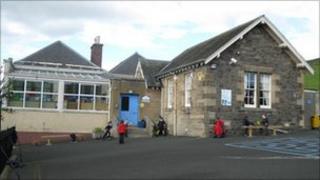 A dinner lady is recovering after the ceiling of a Galashiels school kitchen collapsed on her.
Pauline McEwan was hit by falling debris, when the roof of the kitchen at Glendinning Terrace Primary came down at lunchtime on Monday.
She was taken to Borders General Hospital and treated for a head wound.
Scottish Borders Council said the school had reopened and an investigation had been launched into the incident.
Meanwhile, pupils' lunches are being provided by Langlee Primary School.
Glendinning primary, which has 100 pupils, was recently named in a list of the top 10 schools in the Borders most in need of maintenance.
It hit the headlines in 2008 when then head teacher Irene Hogg went missing after a critical report by inspectors.
She was later found dead at a remote spot near Hownam.