Dumfries and Galloway cottage hospital closures dropped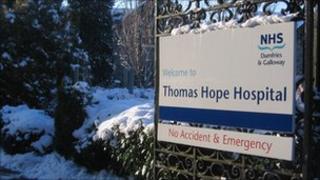 Plans which could have closed five cottage hospitals in southern Scotland have been dropped by an NHS board.
Facilities at Moffat, Lochmaben, Thornhill, Langholm and Kirkcudbright were under threat.
However, NHS Dumfries and Galloway has now revised its modernisation plans to allow for the retention of all community hospitals.
There was widespread opposition to the closure proposals when they were first put forward in 2009.
A revised strategy for the future of health and social care services has now been produced.
NHS Dumfries and Galloway put the closure proposals on hold just over a year ago in the face of an opposition campaign.
It said it had listened to public opinion and had developed fresh plans to meet local needs.
All cottage hospitals will stay open but, as a consequence, no new facilities will be developed, the health board said.
However it said more emphasis would be placed on providing community and home-based services.
It follows public concern about the availability of round-the-clock care, especially in more rural areas.
The health board said there would be increased partnership between the NHS and Dumfries and Galloway Council.
It claimed this would transform services, support and care for older people.