Queen of the South accounts show 'significant' losses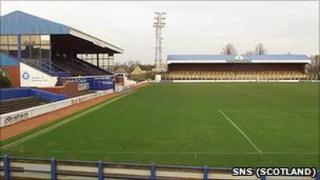 Accounts for a Scottish first division team have shown losses of more than £1m and raised "significant doubt" over its ability to continue as a going concern.
The figures for Dumfries side Queen of the South Football Club cover the year ending 31 May 2010.
This was prior to a string of postponements which have put "severe pressure" on finances this season.
However, the accounts say directors have "plans in place" which they believe can return the club to profit.
The Palmerston Park side enjoyed a revenue boost during a run to the Scottish Cup final in 2008 and subsequent involvement in European competition.
However, since that time the situation has deteriorated.
The latest accounts record a loss of £1.2m by 2010 compared with about £750,000 the previous year.
Net assets have also fallen from more than £500,000 to just £82,000 in the same timescale.
The financial statement added: "The unaudited results of the current year indicate that there will be a further significant loss for the year ending 31 May 2011 which could result in the company's balance sheet showing net liabilities at that date."
It says that the club owns property which "may be valuable if it were to be disposed of".
'Return to profitability'
However, its directors recognise that the current circumstances represented a "material uncertainty which casts significant doubt upon the company's ability to continue as a going concern".
The board believes it has plans in place to "return the club to profitability and positive cash flow in the longer-term".
Earlier this season, chairman David Rae flagged up problems due to the lack of income from a lengthy run of postponed matches.
It prompted a campaign among supporters to raise funds to assist the Dumfries side.
The Save Our South group has already generated several thousand pounds for the club.