Dumfries and Galloway College chief defends cut plans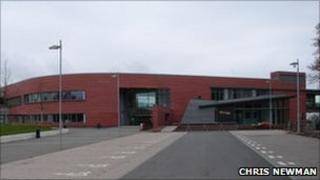 The principal of a south of Scotland college has said planned cuts are needed to strengthen its future.
Dumfries and Galloway College chief Tony Jakimciw has been criticised by lecturers for proposals which could see jobs cut and courses lost.
The EIS union tabled alternative plans to address a £1.1m budget reduction but they were rejected by management.
Mr Jakimciw said the union's proposed staffing structure would have been too expensive to take forward.
"Our funded student places have been reduced by 5.7%, so I am not able to offer the same number of courses," he said.
"So what the EIS is actually asking me to do is to retain 18 members of staff who would have no courses to teach at a time when I am losing £1.14m.
"That just isn't possible."
Staff have voted in favour of a ballot on industrial action following the rejection of their alternative plans.