Galashiels schoolgirl's playground fall damages awarded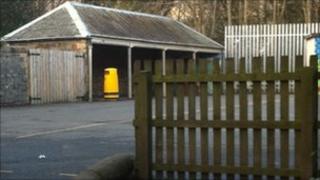 A council has been ordered to pay £2,000 in damages after a schoolgirl fell and hurt her wrist while swinging from rafters in a playground shelter.
The youngster was nine years old when she was injured at the Burgh Primary School in Galashiels in September 2007.
Her mother sued Scottish Borders Council claiming it was responsible by allowing access to the rafters.
The action was originally dismissed by a sheriff but that decision has now been overturned on appeal.
The first ruling was given after hearing the pupil had been caught swinging from the rafters prior to the accident and been warned by the deputy head teacher not to do it again.
However, following an appeal, Sheriff Principal Edward Bowen found the council liable for the incident.
He said: "I would have thought it was fairly obvious that the rafters would have been attractive to children for climbing purposes."
He also noted that two months after the accident the council installed boarding to stop pupils getting access to the rafters.
Respect decision
The sheriff said that if the council had done that beforehand "the accident would never have happened" and they had a duty of care towards the pupil.
He added the schoolgirl had ignored the warning not to play on the rafters and ruled there was 50% contributory negligence on her part.
As a result the agreed level of damages between the parties of £4,000 was halved to £2,000 with interest backdated to June 2009.
The girl's mother was also granted costs.
A spokesman for SBC said: "While we are disappointed by the overturning of the original judgement - that the council had not been negligent in this case - we will respect the court's decision.
"We hope this satisfactorily concludes matters for the family and that they can move on with their lives."