Borders to Edinburgh railway £100m loan deal agreed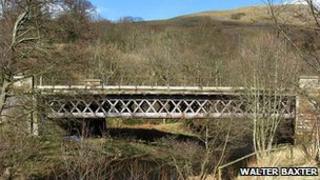 A £100m loan agreement has been put in place to help fund works on a rail link between Edinburgh and the Borders.
Transport Minister Keith Brown said the European Investment Bank (EIB) deal would ensure "best value finance" for the successful bidder for the project.
He described it as a "key" scheme for southern Scotland with "economic and social benefits".
It is hoped the 35-mile line from Edinburgh to Tweedbank can reopen in 2014 at a total cost of about £300m.
Mr Brown said EIB would now offer the loan to the successful bidder at a "rate competitive with private finance".
"Transport Scotland approached EIB in an effort to maximise value for money," he said.
"This agreement will secure savings for the public purse by enabling the successful bidder to secure more economical finance, reducing the overall cost of the project.
"By bringing rail services back to the Scottish Borders over 40 years after it closed, we are demonstrating this Scottish government's commitment to south Scotland and the Borders railway, as well as delivering sustainable economic growth."
Simon Brooks, EIB vice president responsible for the UK, congratulated Transport Scotland on completing this stage of approval.
"Borders railway is an ambitious and exciting project that has potential to transform transport links and economic opportunities in Scotland," he said.