Administrators called in to R&D Construction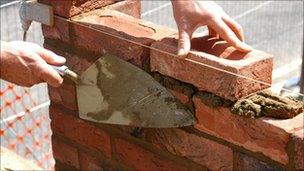 One of south west Scotland's largest building firms has gone into administration, placing at least 200 jobs at risk.
Concerns over the future of Dumfries-based R&D Construction emerged after wage payments were delayed.
Site staff were subsequently told not to report for work on Monday.
Administrators Ernst & Young said difficult trading conditions exacerbated by a harsh winter had led to their appointment.
A review of the financial position at the company, which employs 220 staff and supports a number of sub-contractors, is under way.
The firm is the main contractor for a multi-million pound housing renewal programme in Dumfries and Stranraer.
The renewal project is being funded by Dumfries and Galloway Housing Partnership (DGHP), the Scottish government and the local council.
James Shirazi, director of investment and regeneration at DGHP, said contracts had been well ahead of schedule and a high level of satisfaction had been recorded.
"We are very sorry to hear that R&D Construction has gone into administration, and we are especially sorry for their workforce," he said.
"It is especially sad when it affects so many people locally, who we have worked very closely with over the last few years."
Mr Shirazi said discussions would take place with the administrators in the next few days concerning the future of the regeneration programme.
He added: "We had been closely monitoring their financial situation and to be on the safe side we had already taken over the security of the sites to prevent any attempts to take materials, machinery and plant equipment off site."
Administrators were called in after talks between R&D Construction and its bankers failed.
Andrew Davison, of Ernst & Young, said: "Difficult trading conditions arising from low demand in the private housing market that were further exacerbated by the harsh winter necessitated our appointment."
Related Internet Links
The BBC is not responsible for the content of external sites.