Moussa Koussa interviewed over Lockerbie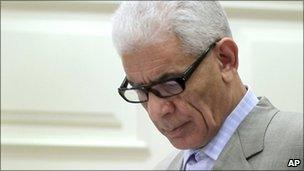 The former Libyan foreign minister, Moussa Koussa, has been interviewed by Scottish police investigating the Lockerbie bombing, the BBC has learned.
Prosecutors believe he has information on the murders of 270 people in the 1988 terrorist attack.
Mr Koussa is thought to have been a senior figure in the Libyan intelligence service when Pan Am flight 103 was blown up over Lockerbie.
One of the Libyan leader's sons says Mr Koussa has no information about this.
In a BBC interview earlier this week, Col Muammar Gaddafi's son - Saif al-Islam Gaddafi - denied the former foreign minister could reveal anything about the Lockerbie bombing.
He said: "The British and the Americans they know about Lockerbie. There are no secrets anymore.
"We have no secrets to the world."
Last week the former Libyan foreign minister arrived in the UK, saying he was "no longer willing" to work for Col Gaddafi.
His defection came amid continued unrest in Libya.
Police and prosecutors in Scotland requested an interview with him at a meeting with Foreign Office officials on Monday.
He was not arrested by police and it is understood that he agreed to be questioned.
In a statement issued on Thursday, the Crown Office and Procurator Fiscal Service (COPFS) said: "We can confirm that officers of Dumfries and Galloway Constabulary, supported by COPFS, today met....[Mr Moussa Koussa].....in relation to the ongoing investigation into the Lockerbie bombing."
BBC Scotland correspondent Glenn Campbell said: "It's not clear how productive the interview was.
"The Scottish authorities hope that Moussa Koussa and other senior figures who have deserted Col Gaddafi's regime can help them close in on those who ordered the attack."
Our correspondent said the questioning was led by Det Supt Michael Dalgliesh, of Dumfries and Galloway Constabulary, who is continuing the Lockerbie investigation.
Reacting to the development, First Minister Alex Salmond said: "I am pleased that Dumfries & Galloway Police have had access to Moussa Koussa as requested, and no doubt officers will question him again if required as part of their ongoing investigation.
"It is very important for the integrity of the process that the police and Crown authorities are given the freedom to pursue their investigation without unwarranted speculation on the substance of their inquiries."
Colonel Gaddafi accepted Libya's responsibility for the Lockerbie bombing and paid compensation to the victims' families in 2003.
However, he has never admitted personally giving the order for the attack.
Abdelbaset al-Megrahi was jailed in 2001 for the attack.
However, the Libyan was released on compassionate grounds in August 2009 by the Scottish government after being diagnosed with prostate cancer.