Dumfries prisoner's vote bid rejected by judge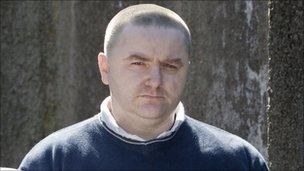 A convicted murderer's bid to win his right to vote in the Holyrood election has been rejected by a judge.
George McGeoch, 39, wanted a review of UK government opposition to votes for convicts and challenged the policy.
The government has launched a legal bid to overturn a European Court of Human Rights ruling that the UK's blanket ban on prisoners voting is unlawful.
McGeoch, from Glasgow, is serving a life sentence in Dumfries prison for the murder of Eric Innes in Inverness.
He killed Mr Innes in his own home in 1998 by slashing his throat.
McGeoch received a minimum term of 13 years but due to subsequent convictions will not be considered for parole until 2015.
In February 2008 he left two Reliance staff locked in their own vehicle after staging a break-out during a hospital visit in Perth.
He was jailed in 2009 for an extra seven-and-a-half years for the violent attack during which he used a makeshift knife.
McGeoch was also handed an eight-year prison term in 2002 for holding two nurses hostage in his prison cell.
Sitting in the Court of Session, judge Lord Tyre noted that McGeoch's case differed from other claims based on human rights rules and rejected his call for a judicial review.
The judge ruled that McGeoch should have launched his legal bid to vote in another way.
Represented by Aidan O'Neill QC, McGeoch was challenging the electoral registration officer for Dumfries and Galloway's decision not to include him on the electoral roll.
Related Internet Links
The BBC is not responsible for the content of external sites.