Lockerbie relatives request Moussa Koussa meeting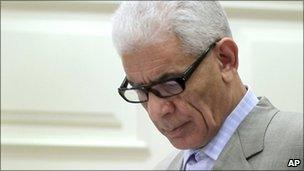 Relatives of victims of the Lockerbie bombing have asked their lawyers to request a meeting with Libyan defector Moussa Koussa.
He is thought to have been a senior figure in the Libyan intelligence service when Pan Am flight 103 was blown up over Lockerbie in 1988.
Last week the former Libyan foreign minister arrived in the UK.
Mr Koussa said he was "no longer willing" to work for Libyan leader Colonel Gaddafi.
Scottish police investigating the Lockerbie bombing have since interviewed Mr Koussa.
He was not arrested by police and it is understood that he agreed to be questioned.
No details of the meeting, attended by officers of Dumfries and Galloway Constabulary, supported by the Crown Office and Procurator Fiscal Service, were given in order to "preserve the integrity" of their inquiry.
Dr Jim Swire's 23-year-old daughter Flora was one of the 270 people who died in the attack.
He confirmed that the legal team representing the victims' families had been instructed to approach officials with a view to setting up a meeting with Mr Koussa.
Libyan Abdelbaset al-Megrahi was jailed for the atrocity in 2001 but was returned to Tripoli in 2009 on compassionate grounds after doctors treating him for prostate cancer gave him an estimated three months to live.
Dr Swire said: "The underlying problem is that many of us are not satisfied with the verdict that Megrahi was guilty as charged.
"Koussa was at the centre of the regime in 1988, so if anyone knows the role Libya had to play in it, he would. It's important for us to get any information that we can."
However, Mr Swire warned that anything Mr Koussa said would have to be taken with "a huge pinch of salt".
Colonel Gaddafi accepted Libya's responsibility for the Lockerbie bombing and paid compensation to the victims' families in 2003.
However, he has never admitted personally giving the order for the attack.