Sainsbury's Kelso store expansion bid rejected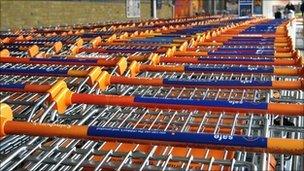 Scottish Borders Council has rejected a bid to expand a Sainsbury's store being built in the region.
The company won a lengthy planning battle with rivals Tesco last year to construct a supermarket in Kelso.
However, it had submitted a further application to increase the floor space in order to accommodate a cafe on a mezzanine floor in the building.
Planning officials had recommended approval of the project but councillors voted it down by seven votes to four.
Councillor Carolyn Riddell-Carre, executive member for planning and environment, was among those who moved to reject the scheme.
"Sainsbury's is permitted to have a cafe on the ground floor under their existing permission," she said.
"Clearly, any cafe on the ground floor would be self-limiting because they will not wish to lose any more than the absolute minimum of retail space.
"We rejected the proposed increase in floor space because it would have an adverse impact on the vitality and viability of Kelso town centre."
She said she hoped the firm would respect the decision and "not lose local goodwill by lodging an appeal".
Sainsbury's national development surveyor, Paul Miller, said the company was "naturally disappointed" by SBC's decision to refuse the planning application.
"We are, however, looking forward to progressing with the store and opening our doors to the community later this summer," he added.
Related Internet Links
The BBC is not responsible for the content of external sites.