Bill McLaren Hawick statue plans take shape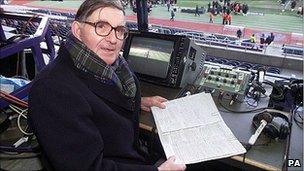 A £15,000 sculpture of the "voice of rugby" Bill McLaren is being planned in his home town of Hawick.
The bronze bust sitting on a cairn will be situated in the town's Wilton Park and will feature the commentator looking up at his Buccleuch Road home.
Hawick Community Council is behind the project and is appealing for public help to finance the permanent memorial.
Mr McLaren died in January 2010 after a rugby commentating career with the BBC spanning half a century.
Community council chairman John Hope said the broadcaster's family was "delighted with the plans".
"Because of all the good work Bill did with Hawick High School we thought it would be good if the kids got involved in the development and planning of what they think the memorial should be," he said.
Pupils are currently working on design ideas alongside a professional artist.
The winning design is due to be chosen at a ceremony in Hawick's Tower Knowe this Saturday when a memorial book will be available to sign.
The memorial book will eventually be added to the Bill McLaren archives and those signing it will also be invited to make a financial contribution to the fund as part of the public subscription being organised.
Local councillor Stuart Marshall said: "I think this is a fantastic initiative from the community council to honour one of Hawick's favourite sons and I'm sure it will get a lot of support from townsfolk."
The memorial book will also be available for signing at the Hawick Sevens at Mansfield Park this Saturday between 1600 and 1800 BST.
Related Internet Links
The BBC is not responsible for the content of external sites.