Dumfries firm R&D's redundant workers get jobs advice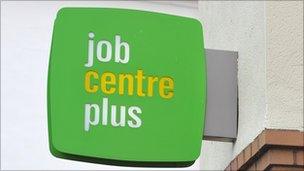 Redundancy advice is being made available for more than 200 workers who lost their jobs in the collapse of a south of Scotland construction firm.
Experts from several public agencies - operating under the name PACE - will be on hand in Dumfries and Stranraer.
They are offering both group sessions and one-to-one counselling to the former R&D Construction staff.
The Dumfries-based firm went into administration last week making 205 of its 226 workers redundant.
PACE's Dumfries and Galloway chairman Ray Robertson hopes as many former R&D employees as possible will take advantage of the advice being offered over two days.
"We will be delivering presentations to all those staff that have been affected who will be there," he said.
"That will be to outline who we are and what services we can provide.
"We can start then to begin to get some information from these individuals on what help it is they actually need."
He said they could use those details to stage another support session if it was required.
The advice events are at R&D's offices in Dumfries from 1000 until 1630 BST on Wednesday and in the Millenium Centre, Stranraer on Thursday from 1200 until 1700 BST.
Related Internet Links
The BBC is not responsible for the content of external sites.