Dumfries and Galloway cancer charity bogus call warning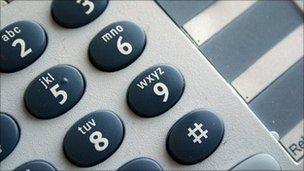 A bogus caller claiming to represent a children's cancer charity has prompted a police warning to the public in south west Scotland.
The incident happened at Port William in Dumfries and Galloway.
A businessman was offered advertising but, when questioned, the caller could not provide the charity's address and gave a false charity number.
Police have advised the public never to give out banking details over the phone to someone they do not know.
A spokesman added that people should only deal with companies they knew and trusted or try to visit a store in person.
"If you receive any call that is suspicious, ask them to provide their detail and offer in writing," he said.
"Remember to take down as much detail about the caller as possible, such as name, accent, company they claim to work for and their telephone number and then hand this information into police."
Related Internet Links
The BBC is not responsible for the content of external sites.