Wickerman Festival 2011 unveils Feeder as headliner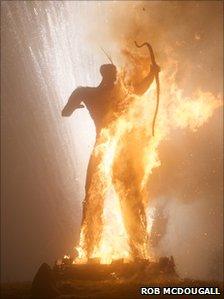 The first acts have been announced for the 10th anniversary of the Wickerman Festival in south west Scotland.
They include Feeder, Echo and The Bunnymen, The Hoosiers, The Damned and The Bluebells.
Festival organisers said the event would take place across 10 stages to allow for a "greater mix of established acts and future stars".
The Wickerman Festival is being held on 22 and 23 July at East Kirkcarswell Farm in Dumfries and Galloway.
Feeder lead singer and guitarist Grant Nicholas said: "The Wickerman Festival's reputation precedes it as being one of the most diverse in the UK.
"This will be our first ever appearance and we're honoured to be headlining the main Summerisle Stage in their 10th year.
"Even better, playing on the Saturday night is an added bonus as it means we'll get to stay on and watch the Wickerman burn!"
A crowd of more than 15,000 is expected over the two days of the event.
Further line-up announcements are due in the run-up to the festival.
Related Internet Links
The BBC is not responsible for the content of external sites.