Milk price plans put to Scottish farmers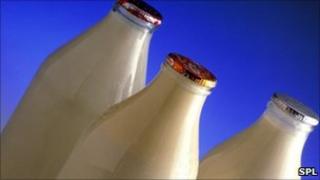 Farmers across Scotland are being urged to attend a series of meetings to outline proposals for a new pricing formula for milk.
NFU Scotland said it hoped it was a "constructive solution" to problems facing the industry.
Farmers have made representations over the "unsustainably low" prices being paid for milk in recent years.
The new plans will be discussed in Dumfries, Stranraer, Ayr, Lanark, Thainstone and Kinross next month.
NFU Scotland said the proposals had been developed "by producers, for producers".
Its milk committee chairman Kenny Campbell, a dairy producer from Dumfriesshire, was a member of the group that developed the proposal.
He said the formula did not mean a "guaranteed smooth ride" in pricing.
"It will not protect anyone from market realities," he said.
"Some months will be better than others.
"However, the critical element to this initiative is that the price produced by the formula will represent the true value of the product, reflecting a supply and demand dynamic that UK milk prices have failed to recognise over the last decade."
He encouraged everyone involved in the industry to attend the meetings which are planned between 3 and 6 May.