Duchess of Buccleuch funeral to take place in Melrose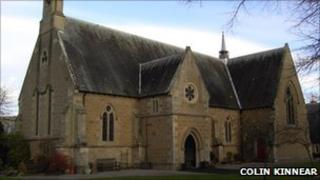 The funeral service for the Dowager Duchess of Buccleuch and Queensberry will take place in Melrose next week.
She died in a London hospital on Monday at the age of 81.
Born Jane McNeill, she was a model for the house of Norman Hartnell before marrying the 9th Duke of Buccleuch, then the Earl of Dalkeith, in 1953.
Her funeral will be held at Holy Trinity Church in Melrose on 27 April with a further service in Northamptonshire at a later date.
Her wedding with the duke at St Giles Cathedral in Edinburgh was attended by the Queen and the Duke of Edinburgh and most of the Royal Family.
The couple had four children, including the current 10th Duke of Buccleuch.
The 9th duke died in September 2007 aged 83 but the dowager duchess continued to spend much of her time at the family's Borders home at Bowhill near Selkirk.