Kirkcudbright town hall overhaul views sought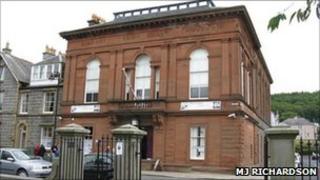 Plans to reorganise public facilities in Kirkcudbright, which could see the closure of an art centre, are to go out to consultation.
Dumfries and Galloway Council is gauging public opinion on a series of proposals to revamp the town hall.
The scheme would see an art gallery, visitor information, library and customer services under the one roof.
However, the "community hub" plans could see the closure of the Tolbooth Art Centre in the town.
A project board has carried out a study looking at what should be incorporated into the town hall.
It has concluded there is a strong argument to move the town's art collection to the building.
Proposals to incorporate the public toilets currently based in Harbour Square have not been recommended to proceed after facing strong public opposition.
A public engagement programme is taking place where locals and visitors will be asked to comment on the project proposals.
It has been estimated that integrating the services could save the local authority up to £122,000 a year.
A full report and business case will be presented to councillors in the summer.