Dumfries and Galloway fire emergency targets drawn up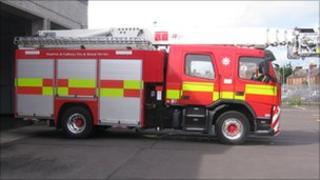 A new set of emergency standards has been drawn up for Dumfries and Galloway Fire and Rescue Service.
The plans set target response times for dealing with everything from critical incidents to less serious call-outs.
Although the nature, location and timing of call-outs is unpredictable, a risk map of Dumfries and Galloway has been drawn up based on historical data.
The model, which is updated annually, has been used to help set the brigade's target response times.
All critical incidents - which covers fires and road traffic collisions where there is a threat to life - are attended by a minimum of two fire appliances.
For the most high-risk incidents, the fire service wants a first vehicle on scene within seven minutes, in at least 50% of cases, and within 10 minutes in 80% of cases.
An eight-minute response target has been set for the second crew to arrive in 50% of cases and within 14 minutes in 80% of incidents.
The service said it strived to meet response targets consistently but admited it was not always possible largely because of the geography of the region.
Dumfries and Galloway Council's police, fire and rescue committee is being asked to adopt the emergency response standards as a basis for further consultation.