Duchess of Buccleuch funeral takes place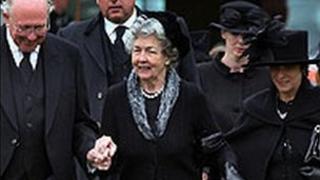 The funeral service for the Dowager Duchess of Buccleuch and Queensberry has taken place in Melrose.
She died in a London hospital last week at the age of 81.
Born Jane McNeill, she was a model for the house of Norman Hartnell before marrying the 9th Duke of Buccleuch, then the Earl of Dalkeith, in 1953.
Her funeral was held at Holy Trinity Church with a further service in Northamptonshire at a later date.
The Duchess's husband, the 9th Duke of Buccleuch, died in 2007.
He was one of Britain's biggest landowners, with more than 27,000 acres, mostly in the Borders.
The estate includes Drumlanrig Castle in Dumfries and Galloway, Bowhill House in Selkirkshire, and Boughton House in Northamptonshire.