Missing Dumfries care home man found by rescuers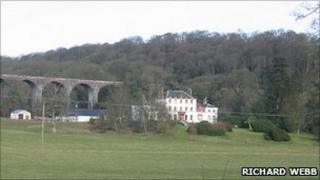 Rescuers have found a 79-year-old man alive after he went missing from a care home on the outskirts of Dumfries.
The alarm was raised on Tuesday night after staff at Goldielea found his room empty.
Police, Moffat and Galloway Mountain Rescue Teams and an RAF search and rescue helicopter joined the operation.
A coastguard unit and Nith Inshore Rescue were also scrambled and subsequently found the missing man in a nearby river.
The coastguard team located him at about 1030 BST.
He had cuts to his head and nose and was in an "advanced hypothermic condition".
The coastguards applied basic first aid and stabilised the casualty while their vehicle was positioned nearby to help take him to an ambulance and then on to hospital.
Solway sector manager John Hope said: "This was an extremely difficult area to search and was another example of good multi-agency working towards a successful conclusion.
"Everyone involved played their part in the relentless search for this elderly male and, in particular, I am extremely proud of the professionalism and dedication of my search teams who found this gentleman.
"He was found in a location which was rapidly reducing his survivability and I have no doubt that the persistence and expertise of the Annan and Portling Coastguard Rescue Teams resulted in the man's survival.
"He was nearly 'unfindable', but we hope that he will make a full recovery."